AirSurround Xtreme YAS-306
AIR SURROUND XTREME Provides Spacious Home Theatre Experience
Yamaha's leadership in one bar surround sound systems is further solidified with the introduction of AIR SURROUND XTREME, made possible by applying our unique 24 kHz HRTF (head related transfer function) surround technology.
It allows you to listen to clear dialogue and other sounds from the front, specific sounds from the other channels to the sides and rear, and smooth sound movement around you.
You won't believe the sound is coming from a one bar system!
MusicCast
MusicCast is a new revolution in network audio, use all your MusicCast products together or separately, it's completely up to you. Control it, all from one app, designed to be intuitive, quick and simple to use. Use a soundbar, a wireless speaker, an AV Receiver, Hi-Fi audio whichever suits you best, mix and match then expand your MusicCast system as time goes on. All new from Yamaha, the MusicCast system brings everything to everywhere for everyone.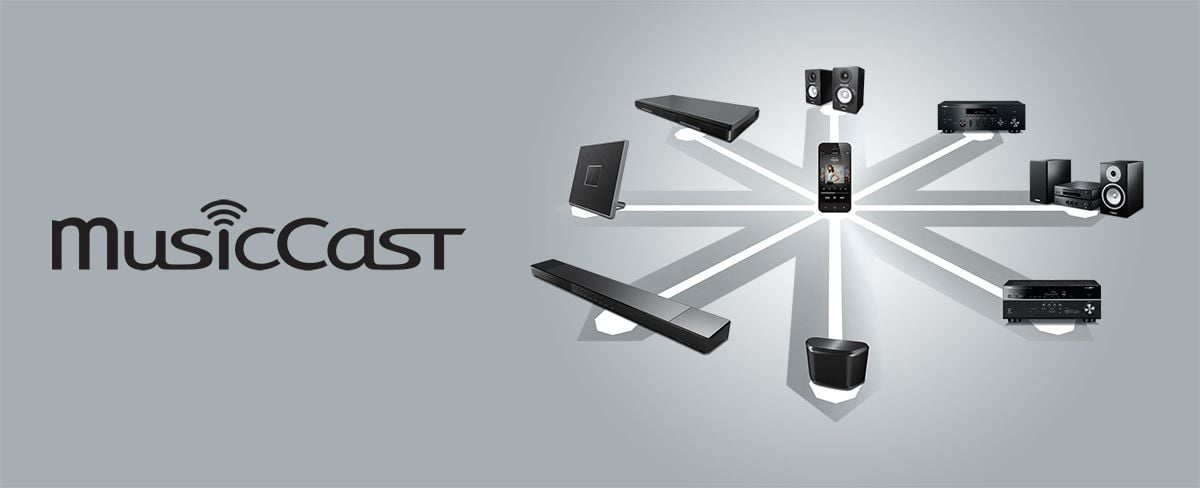 Enjoy All Your Music Sources
MusicCast employs a high performance wireless network to deliver music and audio enjoyment. It can stream digital music content from your smartphone, PC or NAS to other MusicCast devices in your home. It can also share the music from external devices such as a TV or Blu-ray player connected to the YAS-306. Audio content from Bluetooth-connected smartphones or tablets can also be streamed to MusicCast devices in multiple rooms.
Stylish Body for a Beautiful Installation
With a rounded form that will help to beautify your interior, the YAS-306 can be placed on a shelf or hung on a wall, whichever style suits your room.
High Quality Material and Design Match with the WX-010
The YAS-306 body has a high-grade covering made of a materials that doesn't show dust so much.
This is the same material and color used for the WX-010, so the two units go well together.
Powerful Surround Sound From Any Position
The YAS-306 unit includes two built-in subwoofer units for strong bass output, plus a unique bass reflex port for further boost. It also has two middle size woofer units and tweeter units that deliver well-balanced midrange sound and clear high tone. Whether used horizontally or vertically, or mounted on a wall, you're assured of getting massive bass output for a powerfully dynamic surround sound experience.
* The YAS-306 detects when it is wall mounted and automatically provides high frequency sound from the woofer unit.
Specially Designed Speaker Unit
The YAS-306 features a high quality speaker unit designed especially for it.
The tweeter, woofer and subwoofer units are all well balanced and optimised to produce both massive bass with excellent response and clear, highly listenable treble.
Control app for easy operations
Simply tap the beautifully designed screen and take control of all the audio equipment and all the music in your home.
Stream via Bluetooth® or AirPlay®
You can hear all the music sources from your smartphone via wireless Bluetooth® or AirPlay® connection.
You can play music from music apps, radio apps, or YouTube™-type video hosting services.
Bluetooth Output for Convenient Music Streaming
The YAS-306 is equipped with the latest Bluetooth technology, making wireless operation more convenient than ever. You can stream music from the YAS-306 to Bluetooth headphones for private listening or to Bluetooth speakers.
Five Surround Programmes
Providing Surround Programmes with an overwhelming sense of presence and dynamic bass reproduction, the YAS-306 raises the emotion and excitement level so it's like you're watching the movie at a theatre and listening to music at a live event.
*You can select Surround Programmes by using MusicCast Controller App.
Compressed Music Enhancer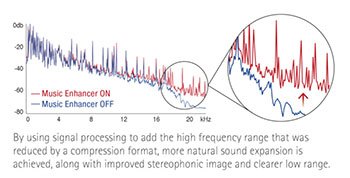 The Compressed Music Enhancer restores frequency response lost during digital compression, so your music sounds the way it should. It is optimised for Bluetooth® audio transmission for vivid, lively sound quality during wireless playback. The function engages automatically when a compressed source is played.
Clear Voice
Clear Voice raises the level of dialogue and narrations while maintaining overall sound quality. Movies and TV shows, sports commentary and news broadcasts are more clearly audible.
Yamaha Eco-Product
With an advanced energy saving design, this product achieves a low power consumption of not more than two watts when in Network Standby mode.